Approximately 43% plastics manufactured in India are Single-Use

Single-Use Plastics may be defined as products made from petrochemical compounds which are meant to be disposed off immediately after use. In simpler terms, they are plastic products that are used for a single application only.
These Single-Use Plastics are light weight and have high polluting potential since they decompose over a period of several hundred years. Over the past several years, these plastics have infiltrated and polluted almost all ecosystems.
In order to address the rising issues of plastic pollution from Single-Use Plastics, the Ministry of Environment, Forest and Climate Change has proposed a framework to systematically phase them out from production and consumption. This framework has been made available as a part of Plastic Waste Management Rules and their respective Amendments.
The guidelines highlight a step wise format within a time frame to phase out the production and consumption of Single-Use Plastics. Some of the key pointers can be listed below:
For Plastic Carry Bags
The permissible thickness of carry bags is to be increased

From 50 microns to 75 microns with effect from 30th September 2021
From 75 microns to 120 microns with effect from 31 December 2022
For Non-Woven Plastic Bags
The ban will also be imposed on non-woven plastic bags less than 60 GSM with enforcement from 30th September 2021
For Compostable Plastic Bags
Carry bags and commodities made out of compostable plastics to confer with industrial specifications curated for compostable plastics
Manufacturers of compostable plastics will be required to obtain certificate from CPCB
Details such as Name and Certificate Number of the producer / manufacturer to be provided if the carry bags are made from compostable plastics
For Commodities
Manufacture, import, stocking, distribution, sale and use of Single-Use Plastics including Polystyrene and expanded polystyrene shall be prohibited with effect from 1 July 2022.
Summary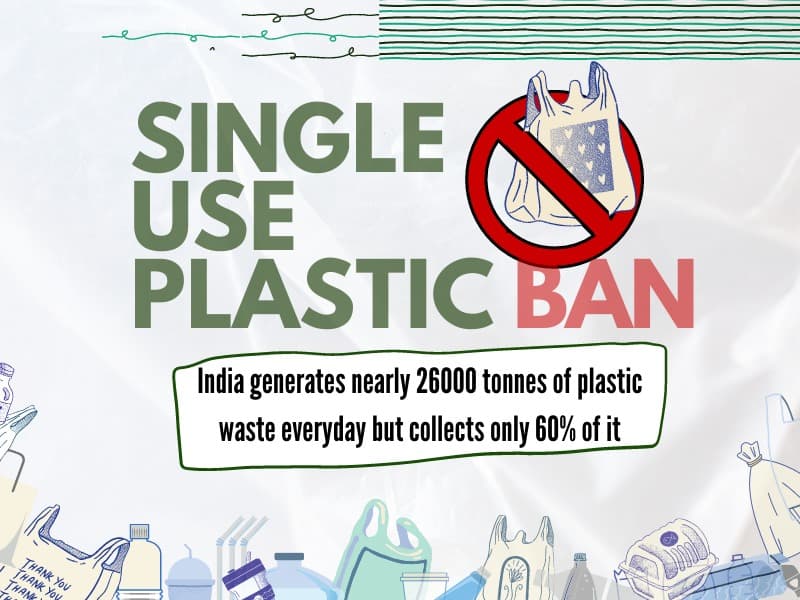 Article Name
Ban on Single Use Plastic : All you need to know
Description
Ban on single use plastics is supposed to be a systematic approach to curb the pollution arising out of these plastics.
Author
Publisher Name
Publisher Logo