Studies show that microplastics are everywhere.
Landfills and oceans are riddled with large amounts of plastic waste and debris. This plastic waste and debris can come in all shapes and sizes.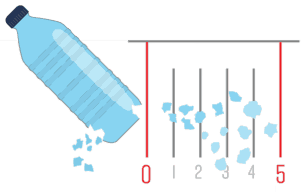 Plastic Particles that are associated with the millimetre size range can be referred to as microplastics.
Plastic waste, debris or fragments that are less than 5mm in length are usually defined as Microplastics.
Several studies across the globe have found microplastics in bottled water, tap water, sea food, sea floors, soil samples and many more.
Types of Microplastics
Based on the source, there are two major types of microplastics:
Primary Microplastics
Secondary Microplastics
Primary Microplastics
Microplastics that are specifically manufactured to have millimetric or submillimetric size are referred to as Primary Microplastics. They are usually manufactured to be used in different types of products such as:
Cosmetic Products (exfoliants, skin cleaning products)
Industrial Abrasives
Drilling Fluids
Specific medical products (dental tooth polish)
Additional sources of primary microplastics include :
The raw material used in the fabrication of plastic products.
Accidental losses
Inadequate handling
Run-off from processing facilities
Residues from manufacturing of plastic materials
Secondary Microplastics
Microplastics that are formed due to the breakdown of larger plastic items and particles are referred to as Secondary Microplastics. They are usually formed from various plastic items and particles that loose their structural integrity leading to their fragmentation when exposed to:
Environmental Factors
Physical Processes
Chemical Processes
Biological Processes
Additional scenarios of that lead to the formation of secondary microplastics involve:
General littering and dumping of plastic waste (exposure to environmental factors)
Abrasion in landfill sites and recycling facilities (physical processes and chemical processes)
Carelessly handled plastic fishing gear (physical processes)
Abrasion during paint removal (physical processes and chemical processes)
Fibers released from hygiene products (physical processes)
Fibers released from synthetic fibers (physical processes)
Effects of Microplastics
Having entered all the different ecosystems of the environment, microplastics have several effects on these systems. Broadly, microplastics have the following effects:
Physical Effects of Microplastics
Chemical Effects of Mircroplastics
Physical Effects of Microplastics
Because of the millimetric and submillimetric sizes, microplastics can be ingested by several types of organisms including plankton, fishes and marine mammals.
Ingestion of microplastics can lead to microplastic toxicity which could stem from one or more of the three pathways mentioned:
Stress caused by ingestion – energy expenditure for egestion, physical blockage and false satiety
Leakage of additives from plastics
Exposure to contaminants adsorbed by microplastics such as persistent organic pollutants (POP's)
Chemical Effects of Microplastics
Although plastics are, in essence, biochemically inert, most these now include additives, commonly of small molecular sizes, which are not bound to the polymer. Since the polymerization reactions during the plastic reaction are not always complete, there are instances where plastics and microplastics leach unreacted residual monomers, solvents and or additives. These leachates are suitable for penetrating cell membranes and to subsequently participate in biochemical reactions which may prove to be lethal or sub-lethal.
Some Facts about Microplastics
Almost 93% of bottled water shows some sign of microplastic contamination.
There is microplastic contamination in almost 83% of tested water samples from major metropolitan areas all over the world.
On an average, a person consumes 117 micrograms of microplastics annually.
Studies have found approximately 10 particles of microplastics in 1 Kg of salt.
Studies have found microplastics in all aquatic life forms.
Studies have found 19 Lakh particles of microplastics in one square meter of seafloor.
Summary
Article Name
Microplastics: All you need to Know
Description
Studies show that microplastics are present everywhere and pose an increase amount of threat to environment and all its different ecosystems.
Author
Publisher Name
Publisher Logo