Iceberg 4 times the size of the state of Delhi breaks off from Antarctica's Ice Shelf.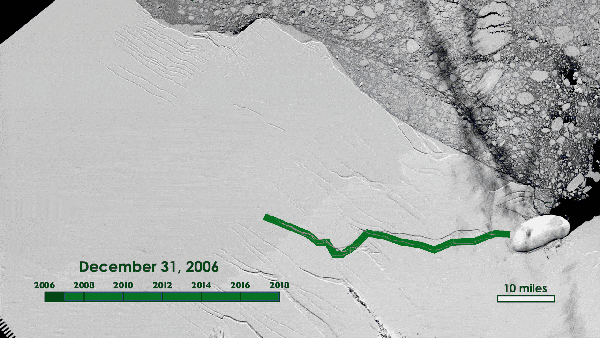 On  12th July 2017, a giant iceberg broke off from Antarctic Penninsula. It is now reported to be adrift in the Weddell Sea. The area of this iceberg is approximately 5,800 kms2, which is approximately 4 times the size of the state of Delhi and weighs approximately 1 trillion tonnes. It is believed to be among the 10 largest icebergs ever recorded.
This break has left the Larsen C ice shelf 12 % smaller and has changed the landscape of the Antarctic Peninsula forever.
The crack casuing the iceberg to break grew over a period of years. However, the largest increase in the crack since January took place between 25th May and 31st May. During this period, the crack grew by 17 kms. This growth further sped up between 24th June and 27th June reaching a rate greater than 10 meters/day.
While Iceberg breaking off from ice shelves are a natural phenomenon, this is breaking is thought to be linked to regional warming similar to its predecessors Larsen A & B. The Ice Shelves have been a part of  Antarctic Peninsula which has warmed up in the recent decades.
In immediate effects some of the ice may remain in the area for decades. However the possibility of it breaking into smaller parts has a greater possibility. These may be a cause of danger and trouble for the vessels in the near by vicinity. Also, parts of the iceberg may drift north in the warmer waters.
This might result in Larsen C disintegrating faster, letting larger volumes of ice entering the ocean and contributing to sea-level rise.